As Chief Engineer I was responsible for all technical and mechanical aspects of the yacht. When we were at sea I also fully contributed as Mate in charge of eight hours of navigational watches per day, especially during our 3,000 mile passage from Lanzarote (Canary Islands) to Oslo, Norway.
Below is a list of the main systems on M/Y Saga which I actively worked with and maintained:
2 x Caterpillar 3406E Main Engines (6 cylinders, 475 hp)
2 x Northern Lights/Lugger Generator Sets (6 cylinders, 80 kW, participated in refit)
Tenfjord Rolls-Royce Steering Gear
Koop Nautic Hydraulic Stabilizers
Alfa Laval Fuel Separator (including repair work)
Marine Air Systems Air Conditioning (Reverse Cycle)
Heinen & Hopman Freezer/Cooler Plant
HEM Reverse Osmosis Watermaker
Hamann Sewage Treatment Plant
Bilge Boy Oily Water Separator
Scana Moland Smart Chief Alarm & Monitoring System
Techman Software for maintenance, equipment, jobs and inventory management
Advanced electronic control systems (including some programming)
De Keizer advanced systems for shore and generator power management
CCTV security systems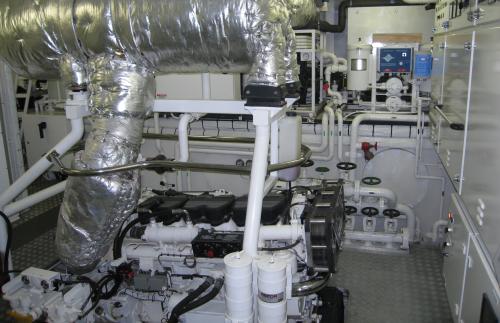 Engine Room M/Y Saga.
Back to Sailing Experience